2001 – 2023
Affiliazione Stampa con tessera giornalistica presso DPV Deutscher Presse Verband Hamburg DE
(Journalisten-im-Netz) (2001-2023)
TESSERA N. DE-517944-001 (Antonio Tisi)
La DPV è un'associazione stampa registrata presso il tribunale distrettuale di Amburgo con numero di registrazione VR 12505 ed è rappresentata da un consiglio di amministrazione. Il numero di identificazione secondo §27a UStG è DE154872860. La Federal Press Card della DPV è registrata presso l'Ufficio Brevetti e Marchi della Repubblica Federale di Germania con il numero 4 05 05 177.8 9. L'associazione DPV è registrata all'ufficio presidenziale del Bundestag come associazione accreditata presso il Bundestag tedesco. Parlamentsarchiv Deutscher Bundestag (DPV pag. 370 n. 1080)
Affiliazione Stampa (2007-2023) tessera giornalistica The International Association of Journalists (IAJ)
The International Association of Journalists (IAJ) is a not-for-profit organization dedicated to journalist organisations. IAJ helps ensure a healthy environment for the media stuff.
Our Vision is to be one of the most effective, representative and professional federation of journalists. The freedom of expression underpins other human rights. It is the means by which other human rights are defended and extended. In the Information Age the freedom of expression takes on additional importance, as the ability to send and receive information, regardless of frontiers, comes increasingly to dominate our economic, social and cultural life. A new grassroots agenda is emerging to articulate the right to communicate an agenda in which access to new media and communication technologies is seen as an essential part of public life and a democratic culture.
Affiliazione Stampa (2011-2023) tessera giornalistica internazionale presso GNS Press Association –
ENA (European News Agency)
GNS Press (General News Service Network Association Inc. ) è stata ufficialmente registrata come associazione stampa e di giornalisti dal 1991 (Reg. Ident: P0 2000.133.258), supporta giornalisti e fotografi della stampa. GNS Press è stata riconosciuta dalla EUCJ, la Camera europea dei giornalisti e ha ottenuto lo status di membro autorizzato.
Con circa 8.000 membri, GNS Press è una delle più grandi e indipendenti associazioni di giornalisti al mondo. I membri GNS provengono da tutti i settori della stampa e dalle aree associate. Dal 1991 GNS Press ha lavorato come associazione giornalistica e membro di numerose organizzazioni internazionali.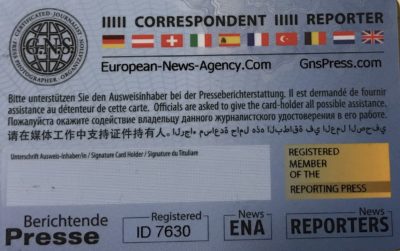 TESSERA N. 21-01-7630 8 IPC-EU (Antonio Tisi)
Member of EUCJ (European Chamber of Journalists)
La Camera dei giornalisti europea (CGE) è il partner europeo per i rappresentanti della stampa che lavorano come giornalisti di tutti i settori della stampa e del mondo dei media (parola, immagine, suono, online). In questo contesto, l'ECJ promuove attività editoriali, di pubblicazione e di comunicazione di ogni tipo e offre ai suoi membri numerosi servizi connessi al tema del giornalismo.
La European Chamber of Journalists (ECJ) è stata fondata nel 2006 da esperti professionisti della stampa, giornalisti ed esperti del settore. Gli esperti del settore apprezzano l'ECJ come un'associazione professionale di categoria che è rappresentata principalmente da giornalisti a tempo pieno e part-time, esperti nel settore della comunicazione e rappresentanti dei media. Tra questi vi sono editor online, fotografi freelance e giornalisti, autori, editori, registi, cameramen, videomaker, producer, addetti stampa, portavoce, critici cinematografici e giornalisti radiofonici.
LAVORO – ATTIVITA' NELLA COMUNICAZIONE
1998 – 2002
Fotoreporter, redattore online (attività freelance), Berlino, Germania.
2001 – 2023 (Rai)
"Esperto per i programmi sportivi a cura della prima rete radiofonica RAI" Grr Sport Radio1 Rai; (2001-2002) Sabato e Domenica Sport, Tutto il calcio minuto per minuto (Alfredo Provenzali, Filippo Corsini), Mondiali di calcio 2002 (a cura di Marco Martegani, conduzione di Alfredo Provenzali, Lia Capizzi e Massimo Caputi), Mondiali di calcio 2006 (consulenza, Monaco di Baviera, Germania), (2002-2007) Non c'è partita (a cura di Bruno Gentili), Europei di calcio 2008 (redattore, rassegna stampa, traduttore in simultanea de-es, Vienna, Austria), (2002-2022) Zona Cesarini (già Zona Cesarini–Music Club) e (2014) A tutto campo (a cura di Riccardo Cucchi). (2016) Radio1 Euro 2016 (Europei di calcio – Francia 2016). Radio1 Sport (canale digitale) regia 2018/2019. Contributor (redazione) Extratime (Radio1 Sport) dal 2021.
Editing Audio, Editor contenuti, podcast – programmista multimediale:
Record. Storie Olimpiche. (voce narrante Maurizio Ruggeri)
Editing Audio, Editor contenuti web RaiPlay Sound:
(Zona Cesarini / "puntate e clip" e Tutto il calcio minuto per minuto / "blob").
(assistente al programma/programmista regista)
(2012-2023) Assistente al programma/Programmista regista
(2022/2023) Producer / Programmista Multimediale (Radio1 Rai)
Mansioni, competenze e know-how:
lavoro redazionale, organizzazione, preparazione e realizzazione del programma; redattore, assistenza al programma, assistenza musicale, programmista regista, "programmista multimediale", autore, curatore, "producer", editing audio, videomaker, social media manager, producer multimediale, addetto stampa, gestione posta elettronica e rapporti con il pubblico, web content e editor del portale internet Zona Cesarini e della pagina facebook ufficiale Radio1 Sport.
Contributor (redazione) Extratime (Radio1 Sport) dal 2021.
Editing Audio, Editor contenuti, podcast – programmista multimediale:
Record. Storie Olimpiche. (voce narrante Maurizio Ruggeri):
Editing Audio, Editor contenuti web RaiPlay Sound:
(Zona Cesarini / "puntate e clip" e Tutto il calcio minuto per minuto / "blob").
Alcuni dei supporti informatici, applicativi di uso quotidiano
(rassegna stampa, elaborazione notizie, editing audio/video):
iNews (programma software – agenzie stampa)
Data Stampa GetNews (agenzie stampa / news)
Netia Media Assist (audio-editing)
VoloEasyReader (quotidiani online)
Openboxes/Origami (web editing) (portale Rai Podcast)
Editor contenuti web RaiPlay Sound
Rai Radiotelevisione Italiana, Giornale Radio Rai, Radio1, Redazione Sportiva, Saxa Rubra, Roma.
2011-2023
Corrispondente dall'Italia ENA European News Agency portale internazionale di informazione.
Fotoreporter (ENA)
Web / Editoria
Ideatore, curatore e responsabile editoriale (web content manager e editor / grafica e contenuti) dei siti web online:
corrispondente e autore:
Come autore, scrive su Fanpage.it, it.blastingnews.com e AgoraVox Italia
Libri-Ebook: Piccolo spaccato italiano (2014)
Libro: "Napoletani per sempre". La passione eterna del popolo partenopeo.
Edizioni della Sera. (maggio 2017)
Formazione
2011 – Corso di conduzione e giornalismo radiofonico, Roma, Italia. 2008 – Corso per addetto all'ufficio stampa, TMS STARTPEOPLE, Roma, Milano, Italia. 2006 – Corso di doppiaggio. Studi di registrazione, Roma. 2005 – Creazione audiovisiva. Corso di regia cinematografica e televisiva. Introduzione al cinema, Roma, Italia. 2001 – Zertifikat Deutsch als Fremdsprache. Corso di lingua tedesca, Die Neue Schule, Berlino, Germania 2001 – Certificato Internet (certificato tedesco con validità europea) Internet Zertifikat. Specializzazione in ambiente internet, "Innovazione e Professionalità". Dbi school-center, Berlino. 2001 – Seminario di formazione, l'impresa, libera attività, leggi, Ministero Lavoro, Senato Tedesco. Arbeit und Bildung e.V. Betriebsagentur und Beratungsagentur Berlin, Germania. 2001 – Berliner Journalisten-Schule (BJS), Online-Journalismus, Radiojournalismus, Berlino. 1999-2003 Freie Universität Berlin, Institut für Publizistik- und Kommunikationswissenschaft (Fachbereich Politik- und Sozialwissenschaften), Berlino, Germania.
*************************************************************************************
(1986/87 Maturità Tecnica, diploma di perito industriale capotecnico con specializzazione in elettrotecnica / corso sperimentale, progetto Ambra II – 1993 Specializzazione post-diploma, Tecnico di Sistemi Produttivi, valutazione ottimo, C.P.E. Regione Campania, realizzato da IFAP-IRI, Napoli – 1995 Corso / abilitazione a ruolo di Agente e Rappresentante di Commercio, Napoli)